Hello,
I'd be interested to know of anyone's experience with these two forms of fuelling the Fiat SOHC.
The reason? I currently have fitted 2x 40 DCNF downdraft carbs. The engine is fitted to a Fiat X1/9. I am considering changing to sidedraft carbs.
Engine spec as it stands is;
1. 1498cc
2. Lightened flywheel, balanced together with clutch, pulley, crank, and the rod's balanced end to end.
3. Cylinder head has standard valve sizes. 3 angle seat work, and ported/flowed by myself, after some study of Vizard¢ž¢s books, and Guys wise words on this site.
4. Compression ratio is 10.8:1, but standard flat topped pistons. (I'll admit now that I've skimmed the head to get this. In my defence, at the time, I did not know about high area squish bands, and other associated anomalies that are now detailed in Guy's Cylinder Head prep. series)
5. CatCams steel billet cam Lift 10.75 mm Clearance (cl)=0
Duration 284 deg (0.1mm+cl)
252 deg (1.0mm+cl)
Peak angle (lobe centreline) 106 deg
Lift at TDC 3.50mm
6. Guys valve springs
7. Goetze head gasket
8. 4-1 manifold 1.5" primaries 23" long, 2" secondary. Single stainless steel box straight through type Jetex silencer.
The engine puts out 126 BHP at the flywheel at present. Below is a power/torque plot. As you can see at the bottom, the Air Fuel ratio plot is not great.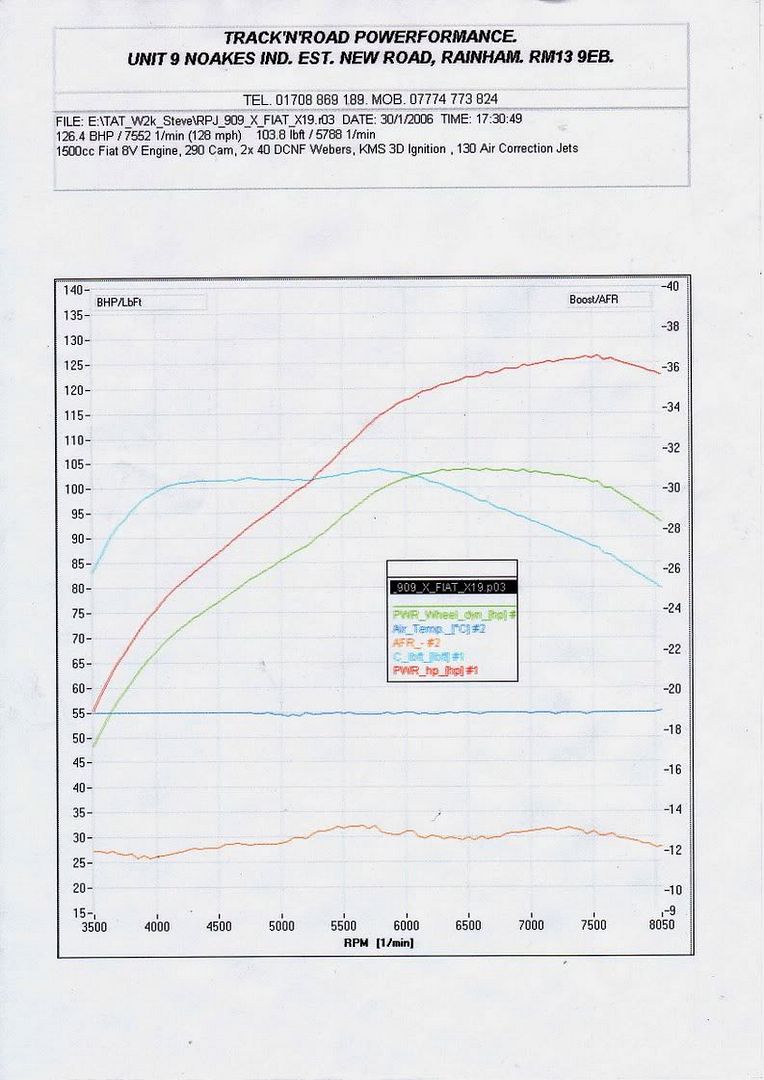 I acknowledge that with a better head, and larger valves, I would make better use of the current carb set up, and produce more power. Also, I suspect that the cam isn't dialled in to 106 deg. (I did it with a Vernier guage on the tappets, not a DTI as I couldn't afford both at the time. I'm sorting that one though)
The question I'm asking really is this.......
Will I get better fuel distribution and mixing? I don't know but I suspect that the charge is currently biased toward the inlet port floor.
I hope to get better port velocity, will this be the case?
I hope that as a result of the above I'll get better torque for longer / higher up the rev range.
Lastly, I know that Weber sidedrafts will not fit, unless I chop the rear chassis cross member. Therefore I'm fitting some bike carbs. The manifold will be manufactured to try and get as straight as possible shot into the ports. I'm looking at 4" runners to enable everything to fit.
Any comments welcome,
Regards, James
For interest.........