Hi Guy!
Here is another jetting question for You:
Engine: 130 TC Standard components only destined for racing series
Mods:
Ported/Flowed/Balanced/Deburred at my best effort.
CR 10:1
Cams timed 102 in/ 105 exhaust - tighter clearances
Advanced ignition timing by 2`
Std tubular manifold - straight free flow exhaust
Carbs: Solex C40 ADDHE Sport (as fitted to 130 TC)
This Carb differs from the normal ADDHE by having a mouth of 45 mm all the way to venturi choke, and differently designed emulsion tubes, air/main jets.
Original jetting:
Venturi 32 mm
Main jet 145
Air corrector 190
Ram pipes ID 45 mm 43 mm length
Planned mods:
The carb will recieve longer (approx 80mm length) ram pipes with 40 mm ID....
The original jetting of these carbs seem to be a bit "off" compared to what is recommended elsewhere......
I have choke sizes 34, 35 and 36 available + I can finally source any wanted jet size.
What setup would You use as a starting point?

Chokes?
Mains?
Airs?
Any advice against changing rampipes?
Thank You!
Best regards
Remi Løvhøiden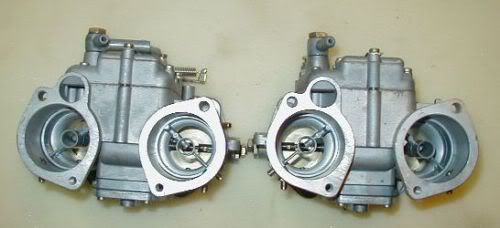 Solex C40 carb mouth - 48 mm without ram pipes.... 45 mm all the way to venturi chokes with std rampipes fitted
This engine now in pieces again for redoing and checking a few details